Published 2020-03-01. Last modified 2023-10-22.
Time to read: 2 minutes.
Keyboards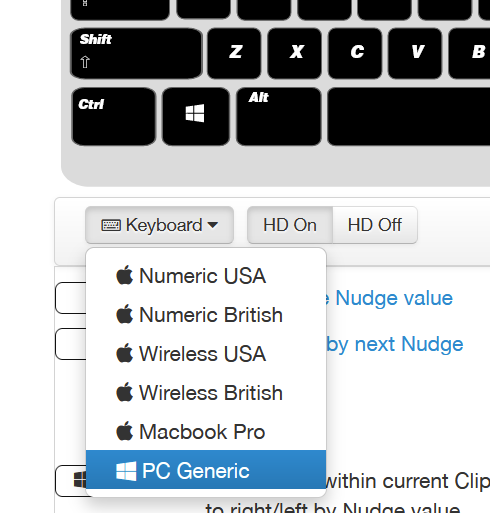 For best results, use a full-size keyboard with Pro Tools. Unlike most other programs, the numeric keypad is useful for Pro Tools.
However, when you use a laptop, you usually do not want to plug in an external keyboard. You can learn they key bindings for your keyboard by referring to Pro Tools Keyboard Shortcuts.
For a 10keyless keyboard with Windows, select the PC Generic keyboard.
Key Modifiers

You can use the keyboard to navigate when A/Z Edit Key is enabled.
P Up
; Down
L Left
, right
Track Volume
Ctrl-= Maximize input level of the selected track.
Alt-click on the slider knob. Set input level of the selected track to 0 dB.
Misc
Ctrl-= Toggle Mix sub-window on top
Ctrl-D duplicate selection
Ctrl-E Cut clip at selection
Ctrl-G Group selected tracks
Ctrl-N new session
Ctrl-Shift-L Loop toggle
Ctrl-Shift-N New track
Ctrl-Shift-W Close session
Ctrl-Alt-B Bounce mix (mixdown)
Win-P Select previous track
Win-; Select next track
Alt-Win-Shift-= Toggle MIDI Editor
Recording
Enter Return to start of session
Ctrl-space Start recording
Space Stop recording
Ctrl-. Stop recording and discard take
Alt-L Loop record toggle
Ctrl-Alt-L Loop record toggle
Tracks & Compositing
Alt-Shift-D Duplicate track
Alt-Shift-N Move selection to new playlist.
Shift-S Solo playlists with cursor.
Win-Alt-v copy selected portion of selected playlist to main playlist
Ctrl-Win-\ duplicate selected track to playlist.
Ctrl-Win-Alt-\ duplicate all tracks to playlists.
Ctrl-Win-Alt-Shift-\ duplicate selected tracks to playlists.
Win-\ add a new playlist to a single selected track.
Win-Alt-\ creates a new Pro Tools playlist on all tracks (including inactive ones).
Win-Alt-Shift-\ creates new playlists only on selected tracks.
Grid Mode
Ctrl
-
Mouse
Slip tracks
During Playback
Down arrow start selection
Up arrow extend selection
Transport
Enter Go to start of session
Space Start/stop playback / Record stop
Ctrl-Space / F12 Record start
Shift-R Record enable selected tracks
Zoom
Ctrl-[ horizontal zoom out
Ctrl-] horizontal zoom in